It has been a very challenging Month!!
On a go-forward basis, I have decided to transfer the "Random Thoughts" Tagline to the team at The Daily Outsider as I will deem my weekly column here as "Out & About". It is about reflections of engagements in the Community, our World and my continued work in support of the Daily Outsider that it has been a privilege to do-as I continue to remain hopeful that it will be in fact noticed.
It was also a It was also quite a week that we were witness to the tragedy of Parkland and the rise of the Young which I tried to support with my on-going Tweets as exemplified with this to be supportive--they are the future :
— Mike Pouraryan (@mikepouraryan) February 18, 2018
I also captured scenes of the closing Winter Olympics Scene as I was also keen to do what I can to be supportive of the Children of Ghoutta. This is as President Trump continued his effort to confuse as he did which was quite mind-boggling:
Today Trump completely contradicted Tillerson's January speech setting out longterm war aims in Syria.Trump said: "We are there for one reason. We are there to get rid of Isis and go home. We are not there for any other reason, and we've largely accomplished our goal.""— Julian Borger (@julianborger) February 23, 2018
As I was working away, this I picked up from Julia McFarlane's Twitter Feed that broke my heart: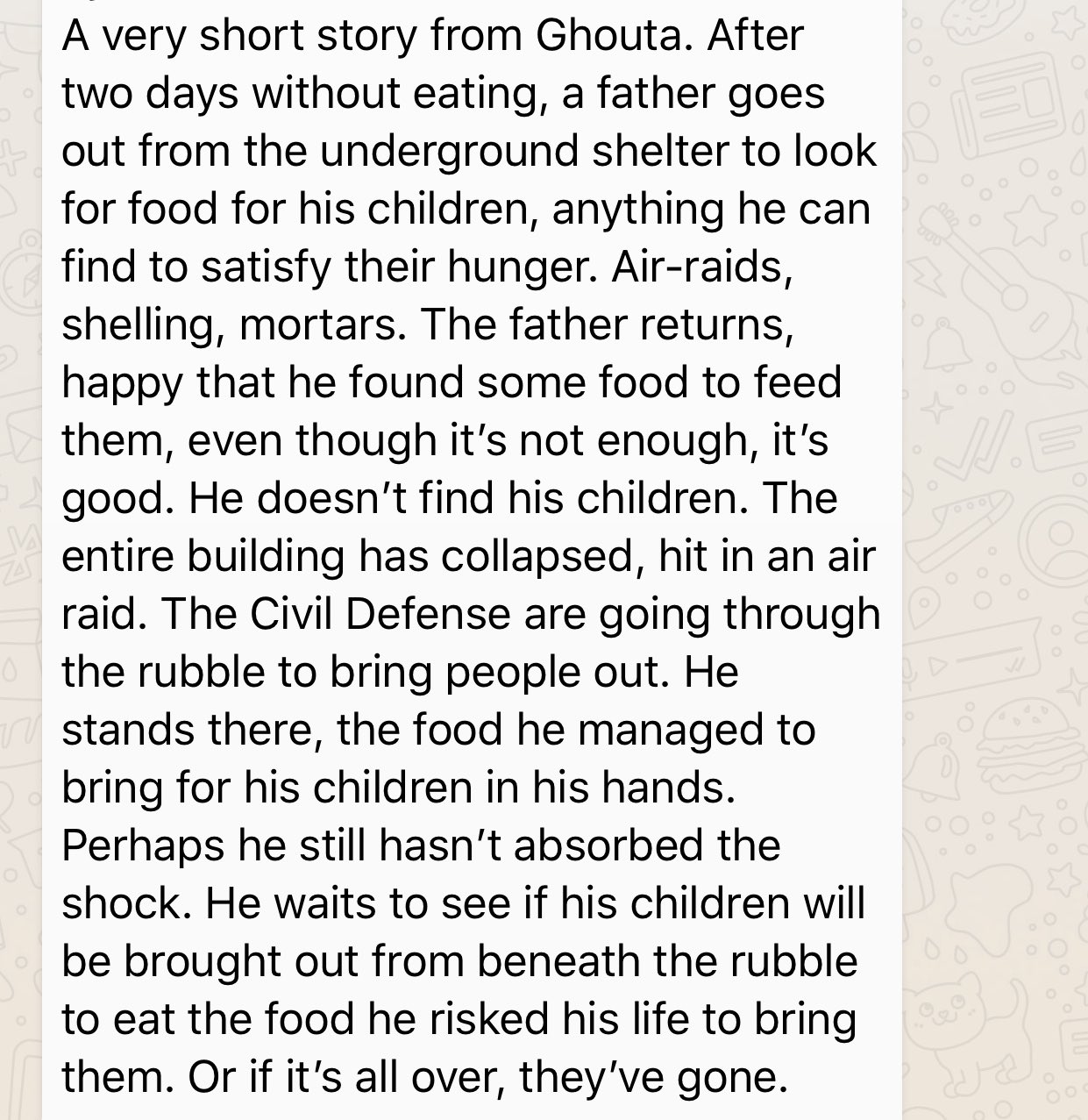 A ceasefire was agreed--however, Iran and Turkey has already said does not apply to them. As such, the tragedy will continue with no end in sight.
This was also a week as I was also very grateful to have been able to share these in response to questions during a deliberations sponsored by the Walden University International Community where I serve as an Ambassador where I reflected upon what drove me to help launch to the Daily Outsider:
It is ok to be afraid and to make a mistake. Aristotle noted that those who don't make mistakes usually don't do anything. Sometimes, though, when it has to do with one's family welfare is when it is probably the toughest--and as we have to mentor our children. Yet, what example do we have for the young if we continue to just simply stay put, accept things and never embrace change? As such, being fearful is something I can't afford.

There is an old saying that we're just limited by the power of our imagination about pursuing our dreams. I embraced this view when I decided to go after and help launch http://ordinaryfaces.business.site ( and I have had much second thoughts at times..) but continue to power through--this is as, for instance, I continue to be open to pursue ideas on an on-going basis. Beyond this, one simple admonition: To Live!!! :) :) :)
For me, It is simply being thankful for every semi-millisecond of my life especially in light of the last 30 days. My on-going community Work is how I do my utmost to underscore this....

My Family, My Friends, My Faith, My Commitment to Community Service & Commitment to always be open to change is I suppose pretty much summarizes it all.....and in the spirit of Valentine's Day week before us one final "Musical Food 4 thought"...and I promise I'd be quiet all week...Happy Valentine's Day to all:

https://www.youtube.com/watch?v=VhsnyVMxRWo
It was also a tragic Month yet again for Iran as Iran lost one of its' top Environmentalists

I am grateful that Thomas Erdbrink has been able to share this to make sure that the true

story of his death is brought to bear--remaining

hopeful every more as I look forward to March with the advent of Spring & Nouroz as I saw Onward:

He fought for Iran's environment, but was accused of spying and died in prison.

Now, for the first time, his sons are telling what happened.

— Thomas Erdbrink (@ThomasErdbrink) February 23, 2018