This day of reflection for me began picking this image on a contest ran as I attended the District Round-table earlier this month--It was too cute not to reflect upon it even though I had noted that I was going to "kind of" take it easy and as the team at Daily Outsider was going to be "dark" although the Twitter Channel will continue to be curated daily.
My Week-End Began with me being at St. Timothy's Parish here in Laguna Niguel yesterday as we geared up to distribute Thanksgiving Meals to 150 Families who had signed up for. It was a beautiful scene as selfless souls (including the Youth) joined this day of service to make a difference in the lives of those who would otherwise not be able to have a Thanksgiving Meal:
Today is also kind of a watershed day for me. As I have been doing the daily reviews, I am seeing reports in Zimbabwe that Robert Mugabe is slated to resign as President and is slated to address the People of Zimbabwe within the next few hours. It was quite a scene as I saw ZANU-PF Delegates dancing after they fired him as party leader and expelled his Wife from the Party: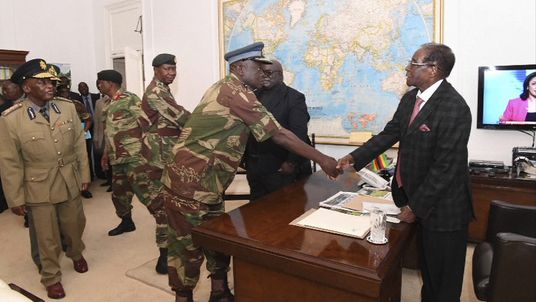 I began first writing as I took over editing for my first blog, OutsiderViews, with a focus on Zimbabwe and Africa and I can't help but be happy for the People of Zimbabwe tonight (Update: Well who I called the Butcher Mugabe Did not Resign--it will be interesting to see how things go...)
It is being witness to such selfless acts of service that continues to sustain my sense of purpose and hope. As I was reflecting upon the day and reflected upon the trials and tribulations, I picked up this from the Great Steve Jobs:
Almost everything: all external expectations, all pride all fear of embarrassment or failure. These tings just fall away in the face of death, leaving only what is truly important. Remembering that you are going to die is the best way I know to avoid the trap of thinking you have something to lose.
As I was getting ready to go "dark", I ran across this from the great Peter DIamandis that is a must-read for me at the team at the Daily Outsider which does also underscore a sense of hope and optimism:
The world is getting better at a *stunning rate*, and as we celebrate Thanksgiving here in the U.S., I wanted to offer you some convincing details and data.
My amazing team (for whom I am very grateful) has put together an Evidence of Abundance ebook with those charts and data.
Consider it "conversational capital" for your dinner table conversations or some inspirational reading for your travels.
This Thanksgiving, I'm grateful for the opportunity to inspire abundance-minded leaders like you... and that I get to spend every day coaching exponential entrepreneurs tirelessly working to solve the world's greatest challenges.
Abundantly yours,
Peter
I conclude with this simple wish:
Happy Thanksgiving to all!!!